ULP Probe Sonicator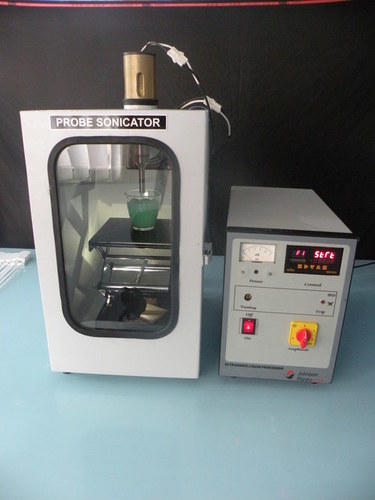 ULP Probe Sonicator
Product Description
Johnson plastosonic manufactures quality ultrasonic probe sonication systems and ultrasonic liquid processors.
The systems are available in various power.
The supporting systems like sound enclosures, up down jacks are also available.
We supply various dimensions titanium probes ranging from 3mm to 30mm .
Niobium probes are also available on demand.
Variable time selecting modes are available.
We also supply First in class Rotary ultrasonic sonication system
Johnson Plastosonic has delivered ultrasonic sonication systems to various eminent institutes like BIT,IIT,NIT,NCL and various colleges institutes and universities also for commercial purposes.
Product details
| | |
| --- | --- |
| Amplitude | 4 step amplitude set |
| Frequency | 20 khz |
| Power | 500W |
| Probe Size | 6mm,12mm,19mm,25mm |
| Stand Base Size | 310mm x 220mm |
| Stand Height | 520mm |
| Table/Plate Operating Size | Enclosure: 400 x 300mm |
| Weight | 16 Kg |
| Model Name/Number | ULP 500 |
| Display Type | 01 Line LED display |
| Dimension | 420mm x 300mm x 500mm |
| Country of Origin | Made in India |
| Brand | Johnson Plastosonic |
| Phase | Single Phase |
| Automation Grade | Semi-Automatic |
| Voltage (V) | 230V |